Detailed
transcriptions
of your calls
With Qote, stay ahead and never miss out on important information again, no matter where you are or what you're doing
Sophia Smith is calling!
Your call is being Qoted
Call Qoted!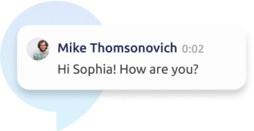 The simplicity of using Qote
Features
Get the most from your calls
Search options
Find Information in your conversations through keywords or in your highlighted phrases.
Biometric security
Only you can read your call transcripts by unlocking them with facial identification.
Download transcriptions
Named each of your transcriptions to find them easily and download as PDF.
We always keep thinking about how to improve your everyday working life.
Keep track of what's next with AI-powered summaries
Email follow-ups
Smart labeling of your conversations.
Pricing plans
Ps! No credit card is required!
Understanding your business conversations is the key to your success
Free
Unlimited Qote calls
60 minutes of free transcriptions

2 AI summaries
Search, highlight and share transcripts
Download on Google Play
Google Play
Download on App Store
App Store
9.99 USD/mo
240 minutes of transcriptions
Unlimited AI summaries
Plus everything in Free!
Download on Google Play
Google Play
Download on App Store
App Store
What did our
Beta Testers say?
"It would be more than a slam dunk for me to have that transcription. I feel much more confident having that conversation"

Brittany

Real Estate Agent Lakewood, Colorado
"Now I can pull up the transcription and show you exactly when and where I told you that. It helps alleviate a lot of liability"

Benjamin

Real Estate Broker Austin, Texas
"Could I use it right now? I'm having some difficult conversations with my lawyer and it would be super helpful"

Tamar

Real Estate Agent Toronto, Ontario
Contact us
If you have
any questions
please write us!
We will contact you as soon as possible.